TZR125 Track bike
TZR125 Track Bike
I really like my street TZR125, so would like to build me a Track bike to.

To make a long story short, I'm using most parts from my first track bike project.

It was ready for a 95% but it never came completely ready.

Most of it had to do with me starting new projects, and this one was left behind.

Four years past, and it was still standing at the back off my workshop.

So the choice wasn't that hard. To give it a new live.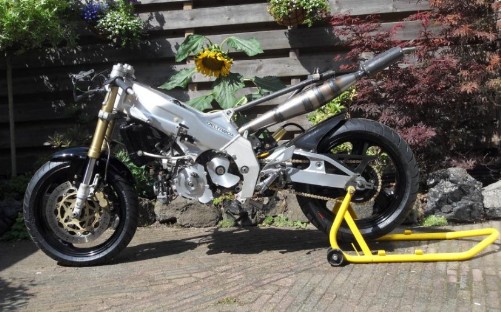 The TZR125 RR rear swingarm and CBR shock was plug and play
The SZR660 front end plug and play
This in combination with my spare RR exhaust, will give it a nice starting point
Small steps are done, mostly is adapting the rear subframe in order to use the 4FL tank.

Just need to do some welding, but most parts do fit.

End can will be a touch higher in the same angular as the rear seat.
Slowly we are getting there
Running on a original TZR 32mm Dellorto